Take Playtime To Another Level!
The 360 RC Twister Stunt Car brings RC fun to a whole new level with hand gesture sensors, music, and lights! Whether it's on or off-road, the huge wheels keep the body from being hit for exceptional off-road handling and racing speed. Its powerful 7.4V li-ion battery enables the car to operate for a longer time -- up to 45 minutes of playtime. Enjoy every thrilling driving moment!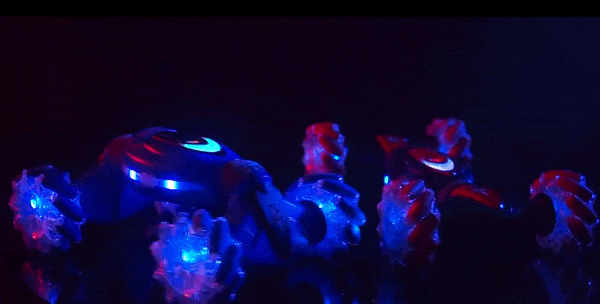 The 360 RC Twister Stunt Car is easy to carry and has a number of insane features!
The powerful motor system and easy-to-use remote control ensure hours of fun! A transformable body makes the car more flexible so it adapts to any terrain. Move on grass, sand, rocks, rugged roads, and much more!
Gesture Control:

 

With a 2.4GHz watch remote, you are able to control every aspect of the car by using simple hand gestures. (Also includes a traditional remote control in all types.)
4-Wheel Drive:

 

Equipped with super-tough tires and powerful 4WD that makes it perfect for OFF-ROADING adventures.

The 

360 RC Twister Stunt Car drives on virtually any surface.
Multi Directional Wheels:

 

Pay close attention to the wheels. You'll notice they're specifically designed to move in all directions instantaneously!
Long Battery Life: Equipped with a high capacity rechargeable 7.4V battery pack. After fully charged, it can be used for up to 45 minutes without interruptions! 
Insane Stunts And Cool Features: The 360 RC Twister Stunt Car can easily move in all directions. It can do extreme 360-degree tumbling spins and double-sided rolls. Music and LED lights add to an exciting operating experience. 
Material: ABS
Color: Blue | Red
Dimension:
16.54 x 8.66 x 3.74in

Remote Control Frequency: 2.4GHz
Speed: 25km/h
Car Battery: 7.4V 1300mAH
Controller Battery: 2 1.5V AA(Not Included)
Remote Control Distance: 80-100m
PACKAGE INCLUDES
1 x 360 RC Twister Stunt Car
1 x 7.4v 1300ma mAh Lithium Battery 
1 x Gamepad Remote Control 
1 x Watch Remote Control