MAKE MEASURING AND CUTTING EASIER!
The Radial Contour Gauge Ruler is a fantastic tool to duplicate the curved and odd shape simply and easily. Works well in copying the shape of any irregular items, replicating the shape of moldings, or matching cutouts, great for woodworking or tile flooring installation, and many more!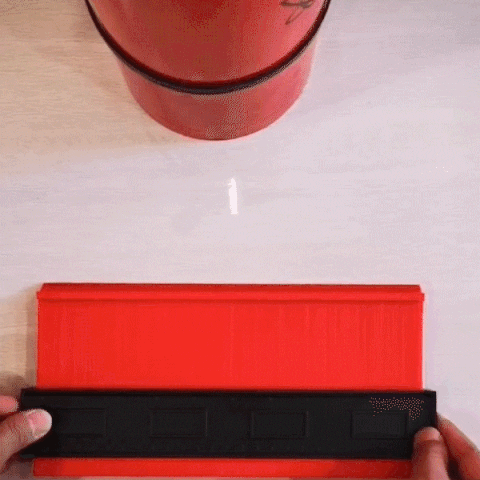 Simply press the pins teeth onto a shape, copy the profile, and cut to shape for perfect fit and easy cutting. Help you make accurate measurements without an estimate. This gauge increases your productivity and saves your valuable time to mark the precise cut. It's a great helper when improving your home!
FEATURES AND BENEFITS
HIGH-QUALITY & DURABLE: Made of premium ABS plastic, it's durable, crocking-resistant, and rustproof. Won't scratch the original finish of the shape being duplicated, conforms to shape, and holds pattern very well.
HIGH-PRECISION: Designed with both inch size and centimeter size scale marks on both sides of the contour copier. The high-definition laser cutting line is clear and easy to read,and the single needle has the precision down to 0.05 inches.
EASY TO USE: It can duplicate any shape instantly. Press the teeth against the object to match the contour and then trace the shape you need. You will get a good shape that is clear, easy to measure or cut. No need to transfer profiles to paper or cardboard again to save your time. This gauge increases your productivity and saves your valuable time to mark the precise cut. It's a good helper for the carpenter or daily use.
WIDE APPLICATION: It fits well to measure many irregular items, such as winding pipes, auto metal sheets, circular frames, ducts, and many objects. Ideal for fitting tiles, laminate, flooring, carpet, checking dimensions, molding, wood planking,  and is a useful tool for operations on car bodies, carpentry, and for all kinds of modeling. 
SPECIFICATIONS:
Material: Plastic
Color: Blue | Red | Light Blue
Size: 250mm | 500mm | 14cm | 25cm | 5inch | 10inch | 20inch
PACKAGE INCLUDES:
1 x Radial Contour Gauge Ruler
Product corresponds to the description, I recommend the seller
The template came as in the description. I recommend everything perfectly.