Holy Trinity Lucky Irish 925 Sterling Silver Celtic Knot Cross
With Three Leaf Clover Accent Gem Stone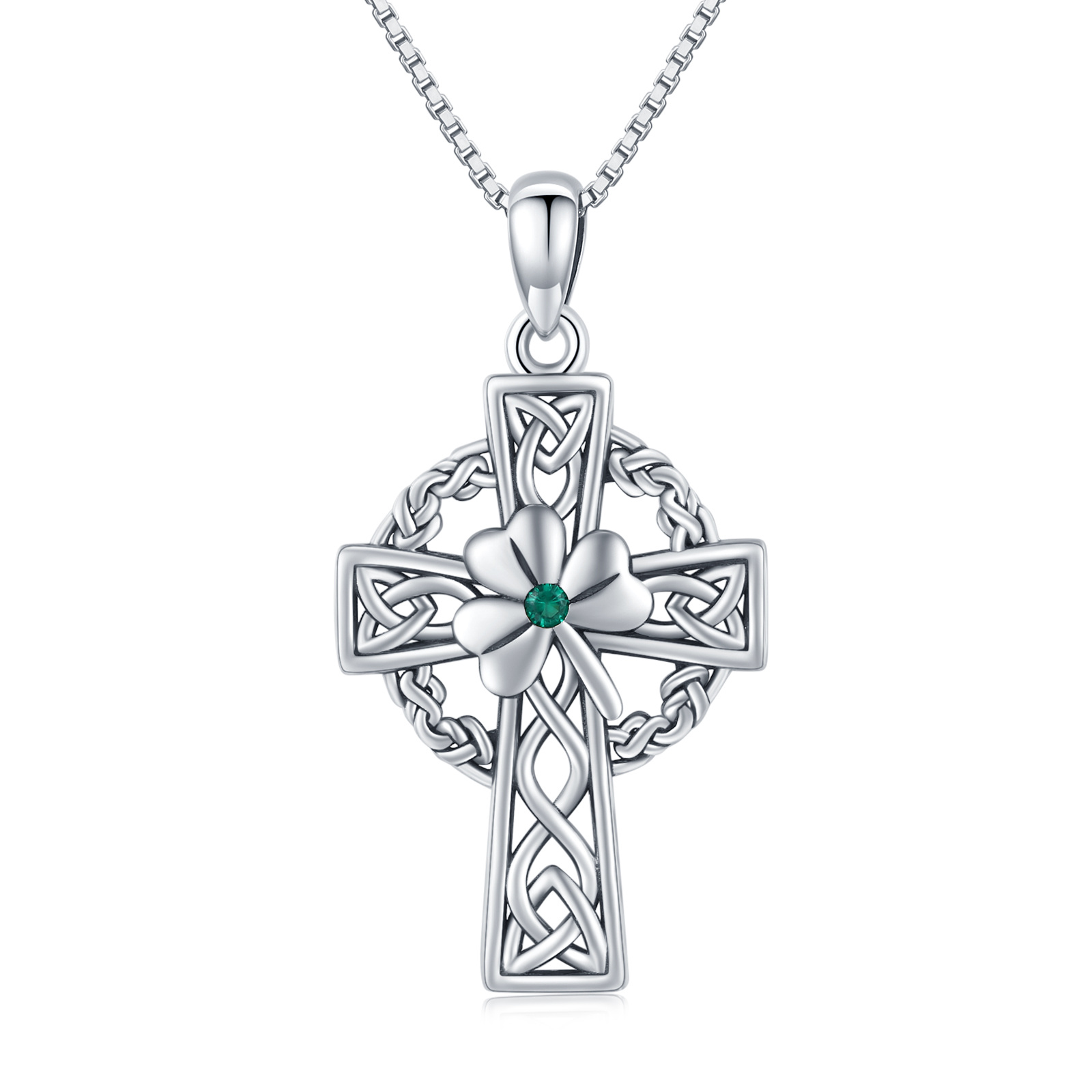 Celebrate your Irish heritage and Christian faith with the Lucky Irish Sterling Silver Celtic Knot Cross Necklace. A unique and meaningful piece of jewelry that combines rich history with a elegant design.
Legend has it that Saint Patrick, the patron saint of Ireland, used the shamrock to explain the concept of the Holy Trinity to the Irish people. That the three leaves of a lucky clover symbolize the Father, the Son, and the Holy Spirit, three distinct Beings in one God.
Additionally, luck has always been an important aspect of Irish culture. The rare four leaf clover, in particular, are believed to bring even more good luck to those who find them. 
Crafted from durable and stylish 925 sterling silver, this necklace features intricate details that add a touch of timeless charm to any outfit.  The delicate yet sturdy chain and lobster clasp ensure comfort all day long.
Symbolism: The Celtic knot represents the interconnectedness of all living things and the unbreakable bond between God and humanity. The cross symbolizes Christ's sacrifice and love for humanity, creating a powerful symbol of faith and heritage.
Shamrock Accent Gemstone: Featuring the iconic symbol of Ireland's natural beauty and cultural heritage with a embossed shamrock with green zircon accent gemstone adds a unique and meaningful touch to this already special necklace.
Historical Piece: The Celtic knot and cross are both symbols that originated in early Christian Ireland, making this necklace a one-of-a-kind piece of history that you can own and wear proudly for St. Patrick's Day or all the time!
Versatility: Whether you're celebrating Saint Patrick's Day or simply want to showcase your love for Irish culture and your Christian faith, this necklace is a perfect accessory to add to your collection. It is also a thoughtful gift for loved ones who shares your passion for Irish and Christian traditions.
Valuable Sterling Silver: The Lucky Irish .925 Sterling Silver Celtic Knot Cross Necklace is a great value for its high-quality and unique design.
Wear this necklace with pride and let it serve as a reminder of your Christian / Irish heritage and faith. Don't miss out on this chance to add a beautiful and meaningful piece of jewelry to your collection.
Limited supplies!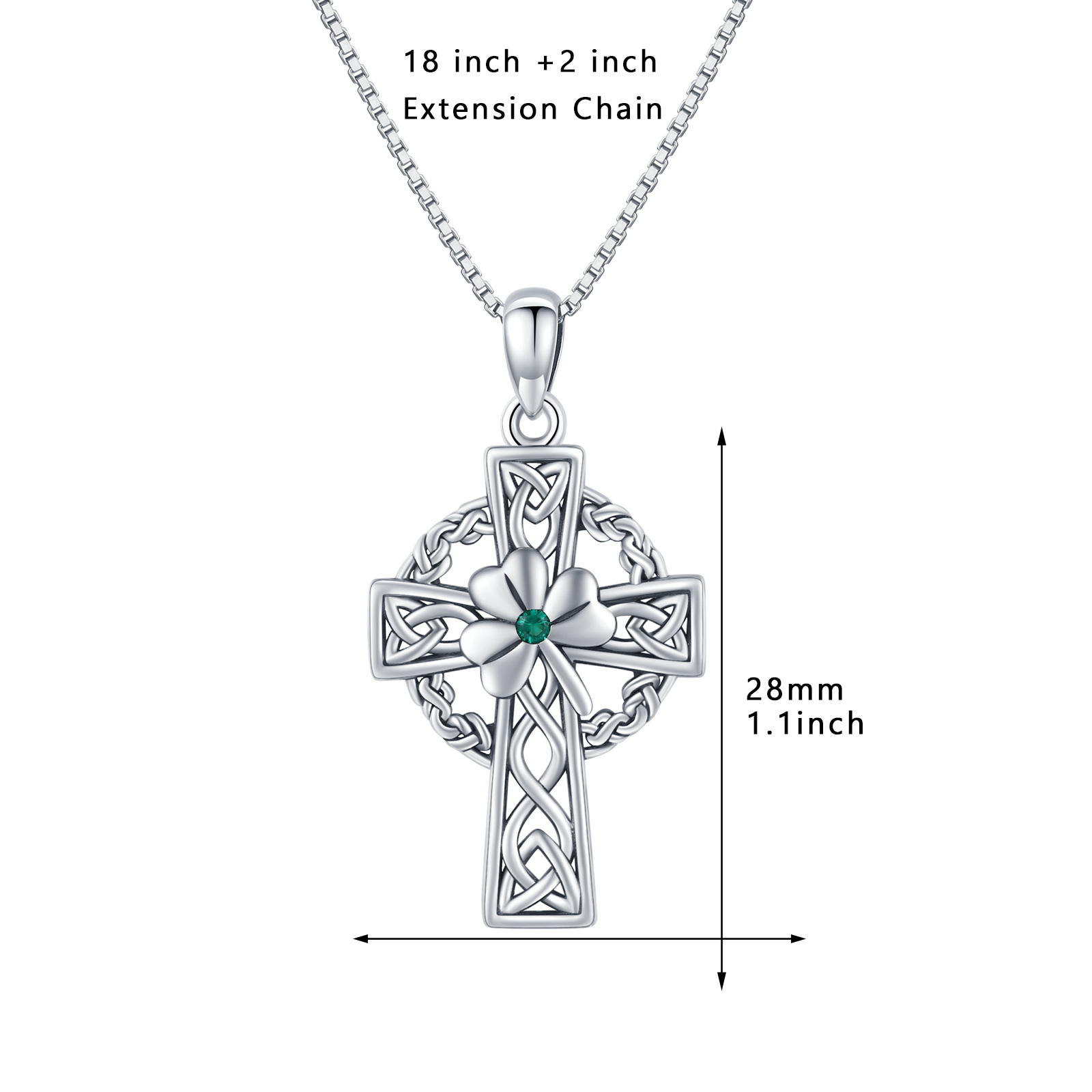 Metal Type: .925 silver
Metal color: Retro Silver
Chain Length:18+2 inches
Gender: Man / Woman
Stone Color: Green Emerald Gem
Stone type: Zircon
Stone shape: Round
Chain Width:0.8mm
Size: 0.98 in*0.69 inches / 25 mm*17.5 mm
Theme: Celtic Irish Knot Christian Cross
Package Include:
1* Necklace
1* Delicate jewelry box
1* Gift bag
1* Maintenance care instructions
1* Silver polishing cloth