KEEP YOUR LITTLE ONES WARM AND COMFORTABLE!
The Ultra Soft Fluffy Baby Swaddle Wrap is made of quality plush fabrics that are breathable and very gentle for a baby's tender skin. Smooth and very comfortable, and will provide warmth and comfort to your adorable baby!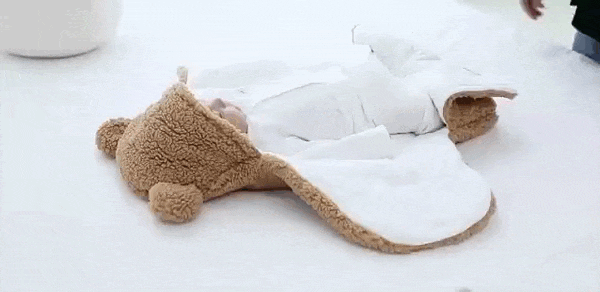 The ear hoodie design makes your baby look like a little bear, cute and adorable. It can protect the baby's head from wind and cold, keeping your baby warm all night, or day. The feet are separate so that your baby can kick and stretch their legs comfortably! 
FEATURES AND BENEFITS
EASY ADJUSTABLE DESIGN: Our adjustable baby swaddles feature soft cotton wings which are securely held together by velcro to create the perfect fit and comfort. It can help your newborn sleep safely.
SOFT, LIGHTWEIGHT & BREATHABLE: Are not only beautiful but also lightweight and breathable. Made of baby-safe and natural premium materials that can keep your newborn perfectly wrapped and sleeping peacefully. The lightweight fabric prevents overheating and keeps your newborn comfortable.
UNIVERSAL FIT: Comes in gender-neutral designs and makes the perfect baby shower gift to add to any baby registry. The ergonomic design is patented to help keep your baby's legs and hips in a healthy position. The "anti-escape" specially designed leg positioner keeps the baby from loosening or shifting while sleeping.
ABSOLUTE SAFETY: Uses non-fluorescent material to effectively eliminate allergies and allergens, and provide a comfortable sleeping environment for your baby. If you value quality, safety, and long-lasting durability, then choosing this baby swaddle will be the right choice.
SPECIFICATIONS:
Material: Cotton | Polyester
Size: 3M | 6M | 9M
Color:  Brown | Red | Pink | White | Blue | Gray
PACKAGE INCLUDES:
1 x Ultra Soft Fluffy Baby Swaddle Wrap